Hi, friends! This month E and I celebrate 3 years of wedded bliss!! Very early in your marriage you will receive lots of (unsolicited) advice and random sayings. One thing we heard over and over again was "how fast it goes" and at the time, this insight pretty much went in one ear and out the other. Though as I reflect, in three short years we've traveled around six countries, accepted new career opportunities, and moved across the country! Pretty crazy.
Marriage has sincerely been the biggest blessing of my life…and I don't type those words to be an annoying cliche. I started praying intentionally for my future husband my junior year of college. Above all the typical characteristics you look for in a future mate – does he make me laugh? is he taller than me? does he have a good relationship with his mom? is he spontaneous?, I wanted to find a man whose faith was important to him, someone who was a man of his word, and honestly, I prayed that I would share the same alma mater as my husband. I was diligent and faithful in my prayers, never doubting God would hear the desires of my heart. (I wish I was always that faithful and trusting in all my prayers!). Little did I know I had already met him! A few months later, just a few weeks into my senior year of college, I was dating my now-husband.
E and I follow the traditional anniversary gifts by year guide that was apparently penned by Emily Post in 1922. I'm a total sucker for anything "traditional" so it didn't come as a surprise when I approached E about this. It was an easy sell. 😉
Aside from following the traditional anniversary gifts, E proposed the idea of traveling to a unique destination each year for our anniversary, on our actual anniversary day. Uh, sounds good to me! (Disclaimer: we'll see how long this arrangement holds out, but to date we are 3/3). Because we have been fortunate to take a mini-vacation each anniversary, our actual gifts are usually small and sentimental.
I thought it would be fun to share how we've celebrated the last three years! Maybe it will spark some ideas for those brides-to-be, or even newer newlyweds. All wedding anniversary yearly meanings were found here.
YEAR ONE: PAPER
The first year of marriage is like a clean sheet of paper, a new beginning upon which to write your passage through the years together. Also like paper, it is fragile and can easily rip, not having yet been tried by the fires of adversity and the storms of life.

Our first anniversary trip will be hard to beat. We went to Paris. (!!!!!!!!!!!!!!). It was everrrrything I ever imagined Paris would be. We rented an apartment in the Marais district, went to every museum imaginable, ate cheese and baguettes on rooftops, window-shopped hand-in-hand, sipped champagne in the park, took a day trip to Versailles, kissed in the Eiffel Tower, drank wine in the middle of the day. I surprised E with a replica of my wedding dress to wear our anniversary night and he completely blew it out of the park by surprising me with window-seat dinner reservations inside the Eiffel Tower! I will never, ever forget this day and talk about it often. If you have the opportunity to go big in year one, I definitely recommend it! Don't hold off on "saving" that special trip "when you have more time/money" etc. You only get ONE first anniversary.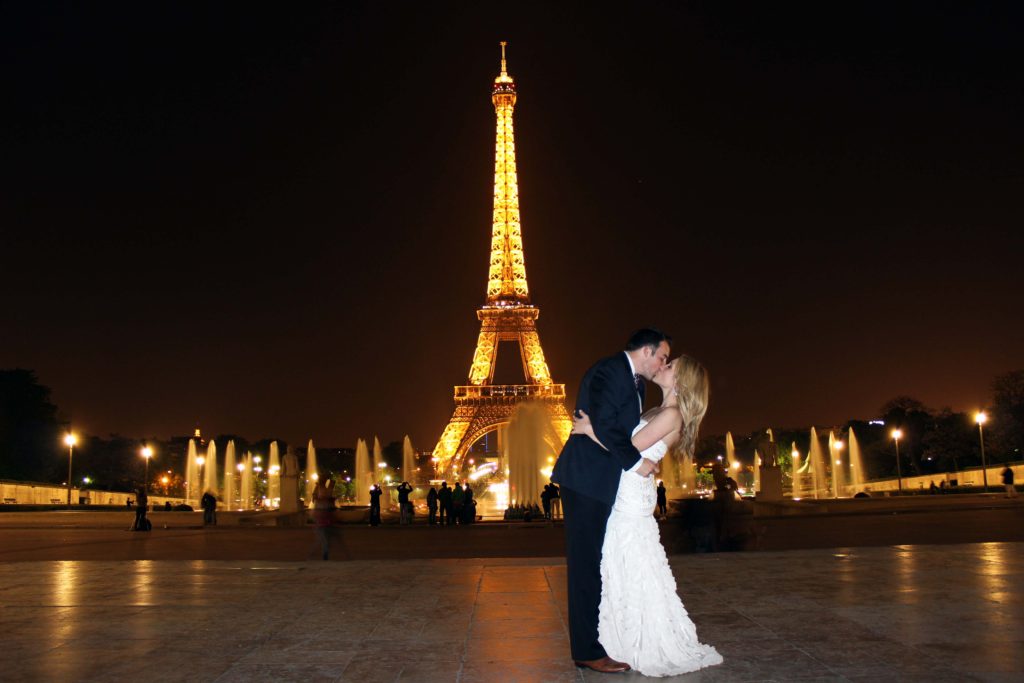 Technically, our paper gifts would have been our airline tickets to Paris but we each gifted the other with magazine subscriptions as a bonus paper gift. I loved the idea my girlfriend Cate and her husband had for year one – they planted a tree! I thought it was the most creative idea! If you own a home at the time of your first anniversary, consider doing this! You'll get to watch it grow each year and get to tell the story to your kids.
Other 1st Anniversary gift ideas:
-monogrammed stationary
-handmade card
-ad in the paper
-copy of the newspaper the day of your wedding
-frame a sentimental photo
YEAR TWO: COTTON
Like the interwoven fibers of cotton, the second year of marriage brings a couple closer together as their lives become increasingly intertwined. And as cotton is at the same time both strong and soft, the couple is learning how to be flexible and adapt to each other's needs.
In year two, E and I visited the Grand Canyon and found ourselves in awe the first time our eyes caught sight of the enormity and beauty of it. There is just a feeling that washes over you the first time you see something you've read about in textbooks for years and years. We were determined to conquer the Canyon in one day and set our sights on the Bright Angel Trail. This trail is not a trail for the weary. It is 12 miles in total with elevation and weather changes. It took us 10 hours and was physically challenging but super rewarding to accomplish together. We met a few folks along the way and ended up toasting our success over a beer!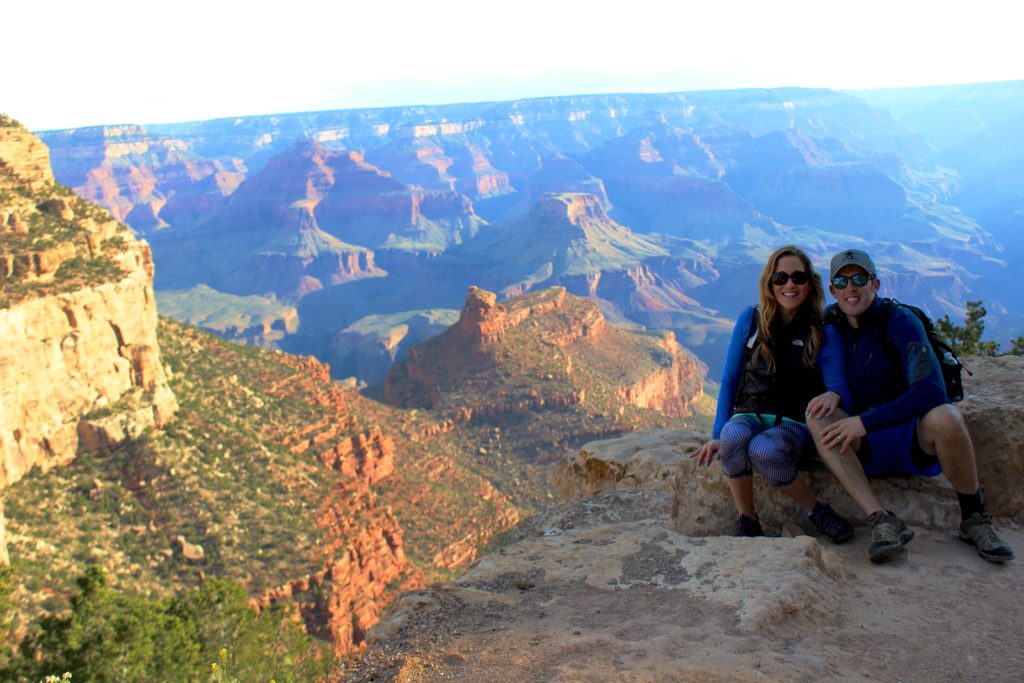 For our cotton gifts, we both went with personalization. He designed t-shirts with one of our inside jokes on it. I had our wedding song printed on a cotton pillow.
Other 2nd Anniversary gift ideas:
-linens
-his/hers pajamas
-handmade quilt
-bathrobe
YEAR THREE: LEATHER
Leather has traditionally symbolized protection and covering; our ancestors covered and protected themselves from the elements with the leather hides of animals. The bonds of marriage offer security and shelter as each partner takes care of the other. Now in its third year, the growing relationship is becoming a source of stability for the married couple.
Our third anniversary trip took us to Alaska. Our expectations were fairly low considering early May is technically off-season, but we quickly learned that Alaska shines no matter when you go! It was incredible and we highly recommend you add The Last Frontier to your bucket list. I'll be recapping that trip in a few blog posts soon.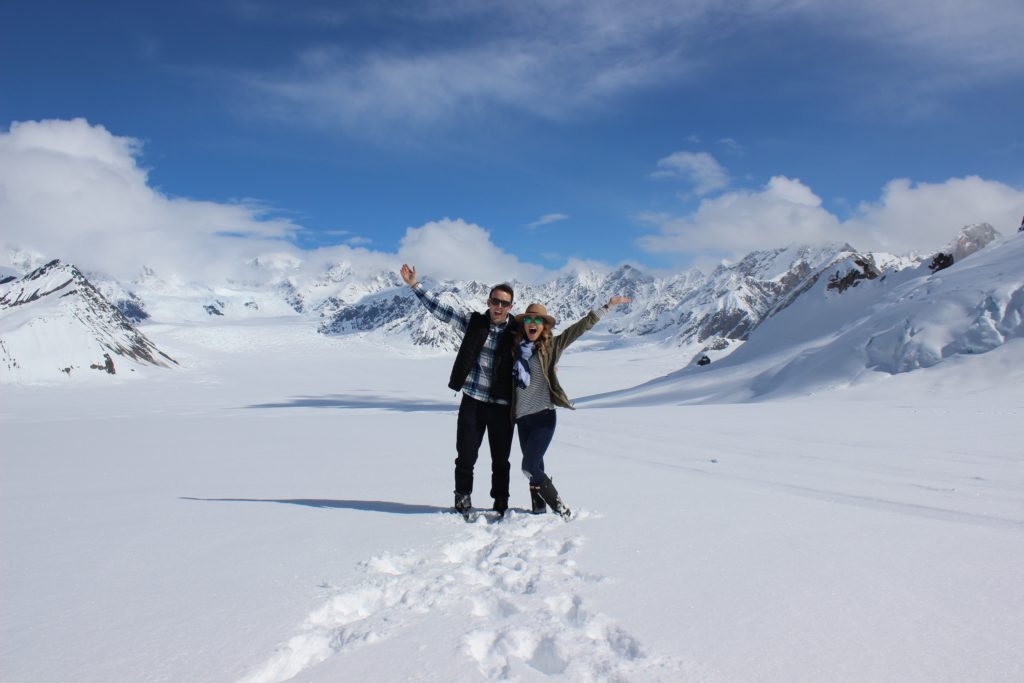 We spent a bit more on gifts this year since we decided to get monogrammed his and hers leather weekender bags. We know leather stands the test of time so we were comfortable investing a bit more.
Other 3rd Anniversary gift ideas:
-leather luggage tags for the traveler
-leather jacket/shoes/purse for the fashionista
-leather journal for the writer/thinker
Married ladies: how have you celebrated your anniversaries? Do you follow the traditional gift route? I'd love to hear!!