Happy February, my friends! Our baby will officially be a 'February baby' and we are so very ready to meet her! Currently doing all the so-called things to help induce labor naturally. Lots of walking around the city and tonight we have a spicy Thai date night planned. The waiting game is killing me. Every night I go to bed and think 'is tonight THE night?!' So far, nope.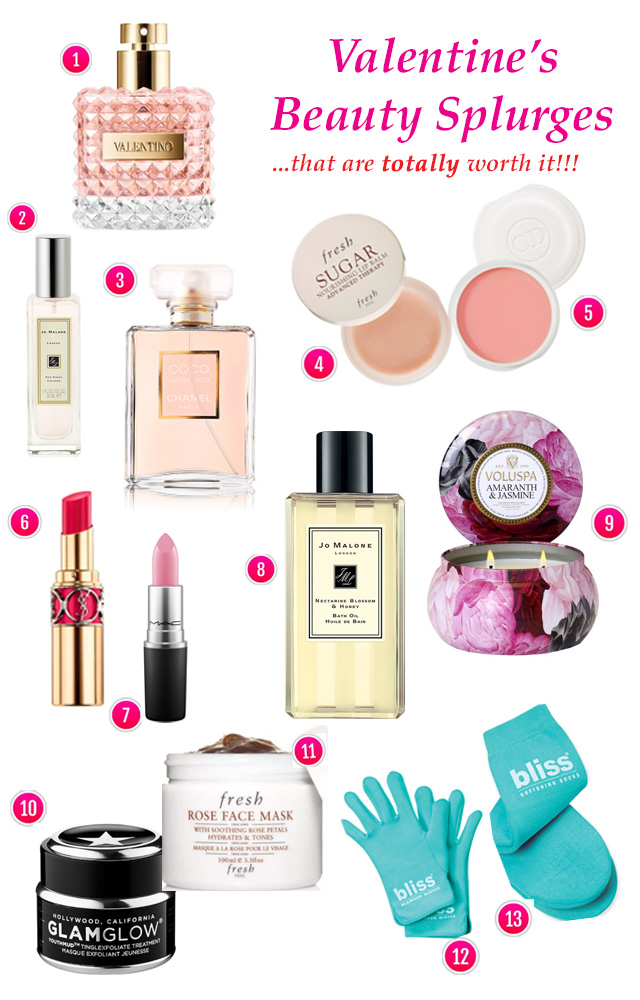 1 / 2 / 3 / 4 / 5 / 6 / 7 / 8 / 9 / 10 / 11 / 12 / 13
February has always had a special place in my heart because of Valentine's Day. I talked about my love of this day in this post. Whether you are celebrating with a significant other, your girlfriends, or otherwise, a beauty splurge is the way to do it! My number one pick is this lip balm. I tried a sample last week and am hooked! I've given E a few hints that I would love this on Feb 14 so we shall seeeee. (E, I hope you are reading!!) That said, one of the most romantic Valentine's Day gifts or personal splurges is perfume. My favorite scent is definitely Coco Mademoiselle. I love how perfume can bring you back to a very specific moment in time. This perfume always brings me back to my wedding day. Because perfume is so expensive, a great alternative is to purchase the roller ball version. Just as luxurious and portable! My fave is this one. My favorite lipstick indulgences are YSL (Rouge Volupte in 9), MAC (Matte in Pink Plaid), and Nars (in Cruella and Never Say Never).
And if you hate Valentine's Day, it's still a perfect time of year to splurge on a beauty product to get you through the last few weeks of winter!