Weekend getaways are always a breath of fresh air. Something about being away from your everyday life, leaving the work computers behind, and having the freedom to just be. Ahhhhh. For Valentine's Day weekend, E took me on a quick trip to Vancouver, BC. Vancouver weather is very similar to Seattle weather so we knew it was going to be raining the majority of the weekend. That shouldn't stop you!! With rain coats and umbrellas in tow, we had a wonderful 48 hours of bliss exploring a new city. We both agree that Vancouver is super cool – there is just a vibe there that is unlike Seattle. Hip, trendy restaurants line the city and everyone on the street is well dressed. I loved it there! I can't wait to go back in the summer when we know the weather will behave and can explore a little bit more freely. Here's our little 48 hour review of Vancouver, BC, Canada!
Where We Stayed
We stayed at the Metropolitan Hotel Vancouver and loved it. It provided all the amenities we needed yet was not stuffy whatsoever. The room had a balcony which was a nice touch, though we only used it to step outside "and look." The room had a lot of space for a downtown city hotel and had ample bathroom countertop space. It always bugs me a bit when I can't fit my hair and makeup on the bathroom countertop so I was quite pleased. The bed was a bit stiff. There was a mini fridge that we stocked with our own champagne and desserts – it was Valentine's Weekend afterall! – and a Nespresso coffee machine that they refilled each day. We loved the location most about this hotel – right in the hubbub of downtown Vancouver!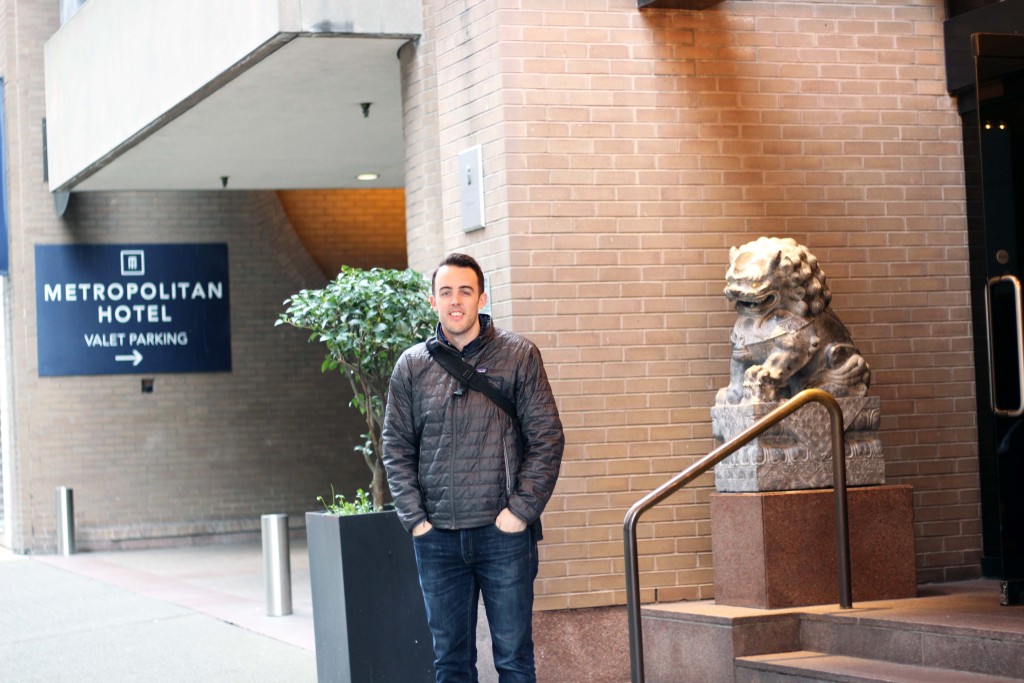 Where We Ate
We ate at a bunch of different restaurants but these were our favorites:
Cactus Club Cafe: this place had all the cool vibes going for it. Great music, modern decor, well-dressed staff and patrons, and really great food! Our conceirege reccomended it to us since it was walking distance from the hotel and we were pleased with what we ordered as well as the service!

Cafe Crepe
: I never got into crepes until E took me to Paris for our first wedding anniversary. It wasn't just the allure of Paris I fell in love with – it was also crepes! This place is no frills but they make amazing crepes. There were so many options to customize your crepe so if you are a picky eater you will no doubt find a combination that suits you. They were so good we ate here twice!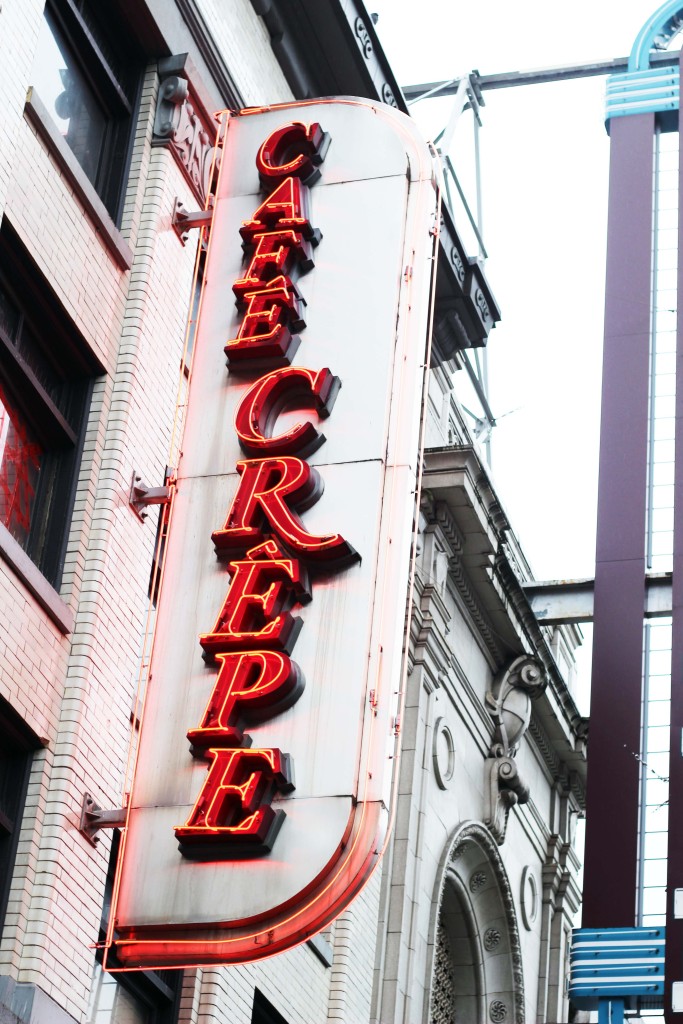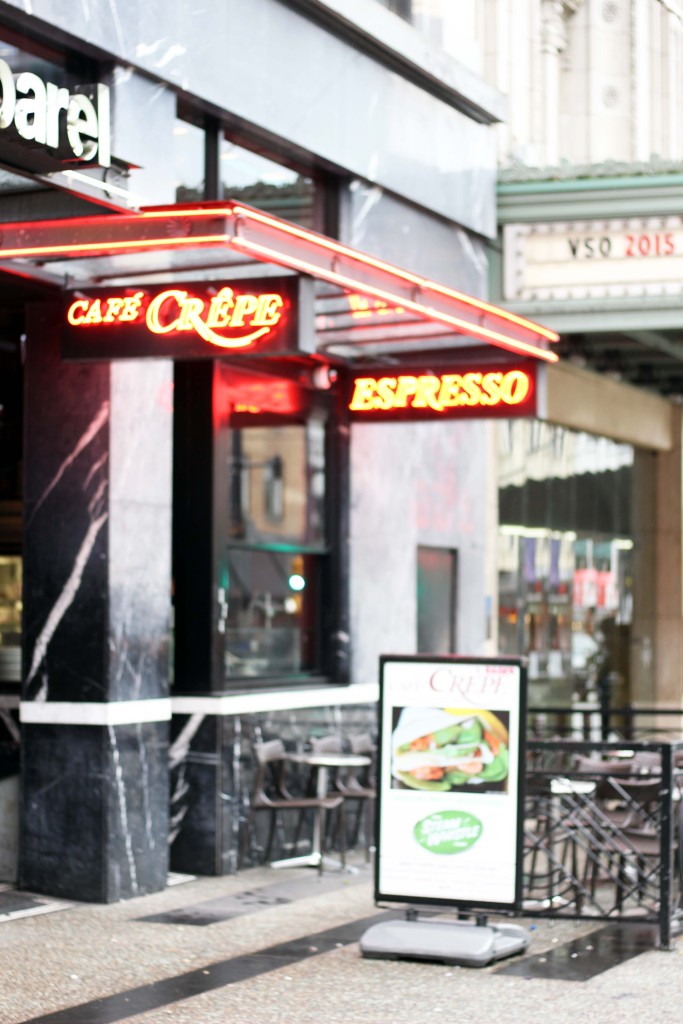 Il Giardino: E booked this restaurant for our Valentine's dinner. We loooove Italian – I mean, who doesn't?! This place was SO good!! Both the seafood and the pasta noodles were super fresh and the ambiance was very romantic. I was dying to try the creme brûlée which they unfortunately ran out of so the waiter recommended the dessert special which was good…but not as delicious as I know the creme brûlée would have been. Ha! I recommend this spot for a romantic, fine dining experience.

The Buzz Cafe and Espresso Bar: we popped in for lattes here before our brunch reservation. I ordered the lavendar latte and E got the Rollo latte. Mine was exceptional!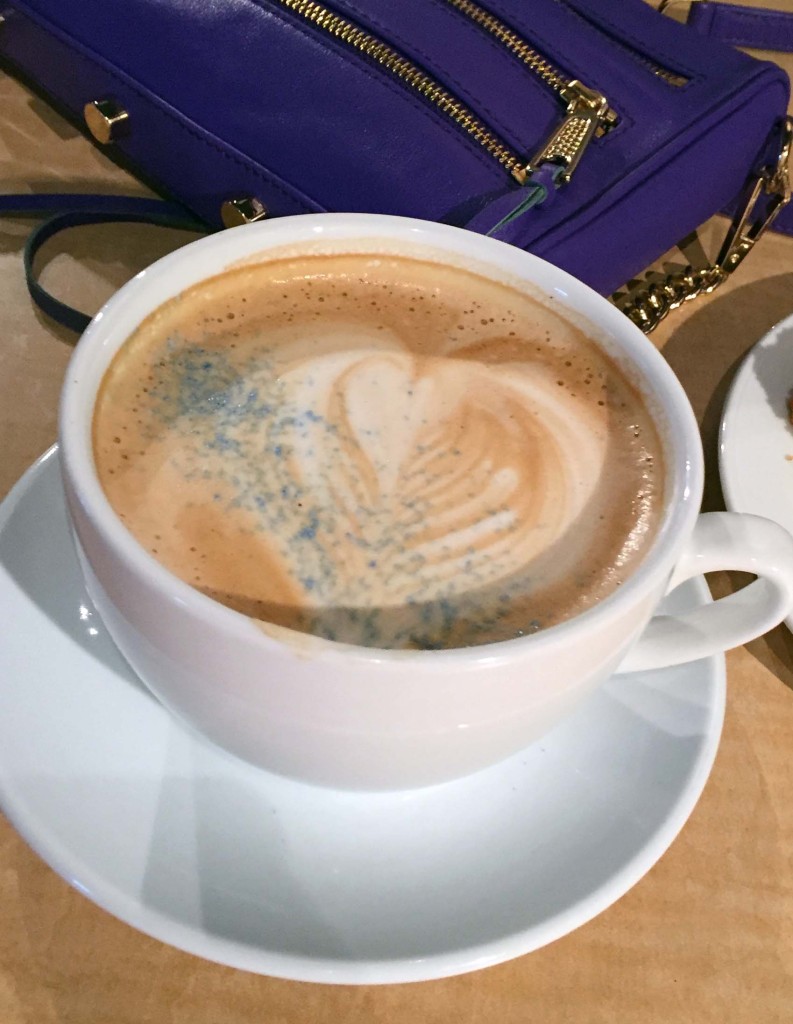 Where We Played
Most of the time we just strolled around the streets of the city though we did spend a good amount of time at Granville Market. We ate from one of the vendors in the market and sat by the water. We also did some beer tasting which was super fun! On one afternoon, we spent a few hours at the hot tub and pool right in our hotel! It was actually one of my favorite moments of our little getaway. I didn't realize there would be a hot tub so I didn't pack accordingly. There was an Old Navy store close by so we popped in and I bought this cute bathing suit in Neutral Floral. I haven't stepped foot in an Old Navy in years and the quality of the suit surprised me. Will definitely be wearing it on our next beach vacation.

Have you visited Vancouver? Share you favorite spots in the comments below!!
Thanks for stopping by! xo