Now that my pregnancy is basically over, I wanted to share the products and items that I loved the most.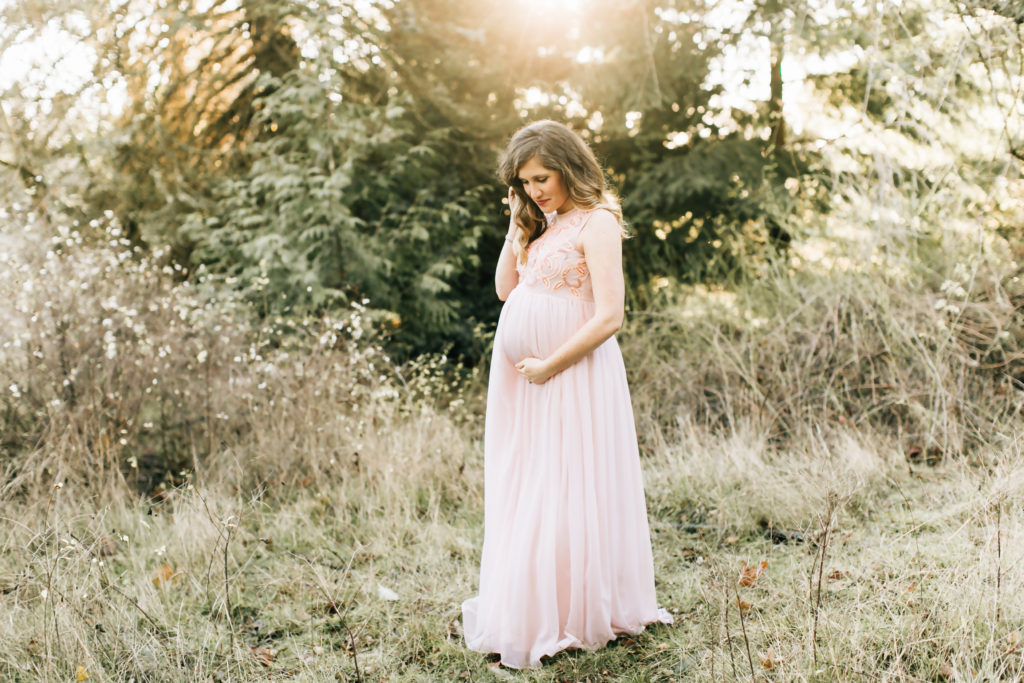 MATERNITY STAPLES
Everyone is different when it comes to requiring maternity clothes. Some ladies won't need them until around five months in, and some will need them much sooner. There's a chance that you will be able to get away wearing most of your regular-sized tops the majority of your pregnancy, especially if you already liked the oversized fit. My tip is to invest in solid color staple items so you can wear the same clothing over and over again, just styled differently. And to extend the life of your jeans, DEFINITELY buy this! Get it in both white and black. I only ordered the white and was constantly regretting not having the black option. It will be the first thing I buy whenever we have baby number two. Without a doubt, the staple maternity tops that were most comfortable and highest quality came from the Gap – my go to tops were this one and this one. When it came to bottoms, I consistently wore this pair (only $25!!) from H&M over and over again. Because they fit so well, I ordered two more pairs from the same exact line in a different color wash but was severely disappointed. I have no clue why, but the other two pairs did not fit the same way. So be careful and give your maternity denim/pants a test run for a few hours around the house before deciding to rip off the tags. When it came to workout gear, I wore my regular tops and sports bras but definitely felt most comfortable in maternity bottoms. My favorite was this pair. I ordered one of the fun patterns as well as black. I also got a few maternity dresses from Old Navy because they are so reasonably priced and frankly, the quality was totally fine. Lastly, all 'special occasion' maternity wear, like this dress I wore to a friend's wedding and also for Christmas dinner (on sale for $27!), were ordered from Asos.
Sizing: the general rule of thumb is that maternity clothes are designed to be ordered in your pre-pregnant size. So if you are normally a size S top, then you will be a size S in maternity tops. For me, I noticed Gap tended to run a little large, H&M small, Old Navy and Asos true to size.
For shoes, I ditched my heels and stuck with sneakers, loafers, or booties. Since there are so many cute flat-shoe options these days, there is no need to kill yourself in heels. 🙂
BEAUTY CARE
As a first-time momma, I probably took more precautions than I will in future pregnancies. For example, I ditched my entire skin care regimen and instead used this or Trader Joe's organic coconut oil on my face every day and night. Self-tanner, gel manicures, and acne face wash were all discontinued as well (as recommended by my OB). I did however, keep my makeup routine the same. My very favorite beauty care product was this balm that I rubbed on my belly and chest after I showered. I also loved this nail polish my whole pregnancy – it is made without formaldehyde, formaldehyde resin, toluene, dibutyl phthalate or camphor. Another nail polish brand that is formaldehyde-free is this one, though I preferred Zoya.
APPS, WEBSITES, AND BOOKS
I used two apps throughout my pregnancy. Though they provided me with pretty much the same information, they each had a different way of telling me what was going on. The Bump app was great and had a funny way of telling you what was happening to your body and how your baby is developing. The other app I used is called BabyCenter and had a more technical tone to explaining what was going on. I used them concurrently.
Favorite websites were Lucie's List and The Pregnant Chicken.
Books I enjoyed were Bringing up Bebe, Happiest Baby on the Block, and What To Expect When You're Expecting.
HOUSE SUPPLIES
I decided to switch our cleaning supplies over to natural products that didn't contain any dye and few fragrance.
I'd love to know what products you loved most during your pregnancies. Share in the comments below!