Well hello there! It's been awhile. As you can imagine, welcoming home a newborn (especially for the first time) consumes all of your time and attention. And oh is it glorious! Ok, and exhausting. It's hard to believe Rose has been in our lives for over a month. It seems like just yesterday that we were bringing her into this world. Without further ado, here is Rose's Birth Story.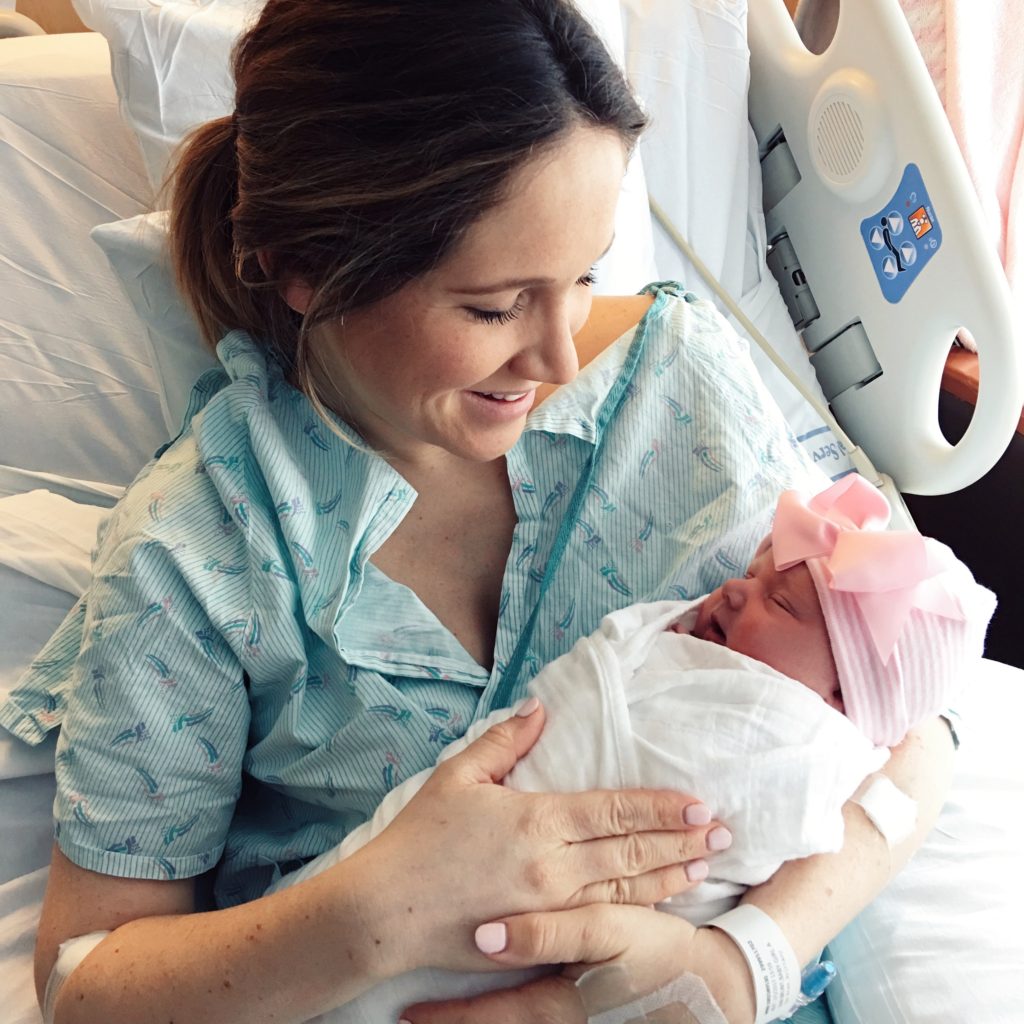 My due date was February 4 which happens to be the exact day I went into labor. But let me just back up for a second. During my entire pregnancy I was pretty convinced she was going to enter this world at least a week prior to her due date. And everything pretty much pointed in that direction. I was already 2cm dilated at my January 17 OB appointment. The doc told me not to go on any long road trips and to be sure our hospital bags were packed – this could happen any day! Well, I had another appointment…and another…and nothing. I continued to dilate which means I was in early labor. At one of my appointments my OB said she could 'sweep my membranes' which is basically an aggressive pelvic exam and your water typically breaks a day or so after that. Lots of people do this. I declined since I wasn't even at my due date yet and wanted my baby to come when she was ready.
E and I started to get antsy once her due date approached so we did all the so-called things that helps to induce labor naturally. We went for long walks, went out for spicy thai, etc. I think that got things going and around 7:30pm on her due date, contractions began. They got more intense as the evening went on, but nothing like what you see in the movies. We knew we were waiting for 5-1-1 (contractions come every 5 minutes, each lasting a full minute, and have been that way for an hour) before calling our OB. Well, we reached the 511 stage so E called the doctor and by 10:30pm we found ourselves in OB Triage, where you go to get assessed to see if you will be admitted. My doctor was shocked to see I was already 5cm along. Apparently it's very uncommon to be a first-time mom that far along without your water breaking. Anywho, they hooked me up to all the monitors to check mine and the baby's vitals. The baby's heartrate was really low (like 100 bpm) which concerned the OB. She told me if she couldn't get her heartrate up, she'd have to do an unplanned C-section to get the baby out safely. I started crying. I was nervous and scared for my baby. I also really wanted to experience natural birth. They pumped me up with fluids via IV, did a quick sonogram, and tickled the baby's head to see if that would get her heartrate up…and it did. Praise the Lord! Apparently the low heartrate was because the baby was sleeping.
We were now admitted into Labor and Delivery and given our own room. It was in this room that I would give birth. At 5cm along already, I had a feeling the baby was going to come in the next few hours. I was wrong. I bopped on a birthing ball, walked around the room — while still connected to my IV, swayed my hips, but baby wasn't making much progress. On top of that, she was head down but facing up…which means the doc wanted her to flip.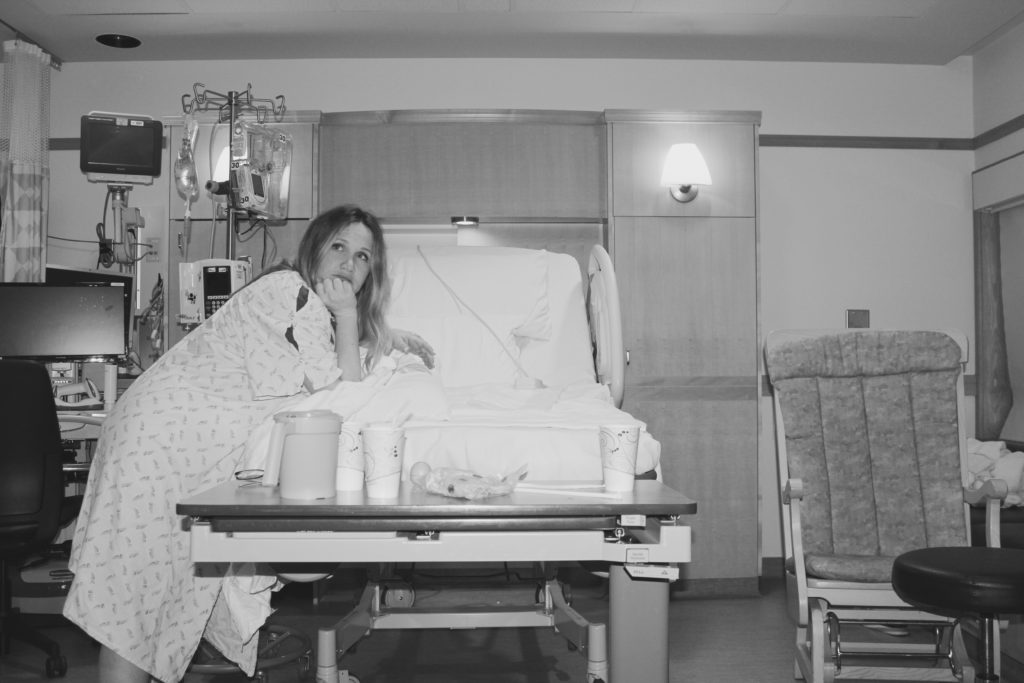 I did all I could but eventually relented and let the doctor break my water and administer a dose of Petocin to help speed up my dilation. At around the same time I got my epidural. I fell asleep and when I woke up, I was fully dilated and the baby had turned! The doc had me labor down for an hour. After that, it was time to push. We were going to meet our baby soon!!! By now, my epidural was starting to wear off so I could feel some of the contractions. When you contract is when you push. You push for 10 seconds at a time, take a breath, and push for 10 more seconds. E counted me through each one. He put the Christian Pandora station on his phone and left it right by my ear. I was totally at ease and felt so peaceful the entire time.
As the baby got ready to make her big debut, the nurses asked if I wanted a mirror to take a peek. I said yes. I was expecting a little hand mirror to have a little look. NOPE! They roll out a full-size dressing mirror! What the…?!?! Even though it's weird and more of a visual of yourself then you'd ever want, I highly recommend any pregnant mamas-to-be say yes and take a peek as well. They can flip the mirror over as soon as you don't want to see anything any longer. While I was pushing, it was just me, E, and our nurse. Once our baby was ready to make her official debut, the doctor came in and the whole room transformed. Half the bed dropped off, a huge light was wheeled over, and my doc got into position…and for me, the mirror came back.
As I gave my final push, I watched as my baby entered this world. On February 5 at 1:59 in the afternoon, after a little more than an hour of pushing, we met our precious Rose Eleanora.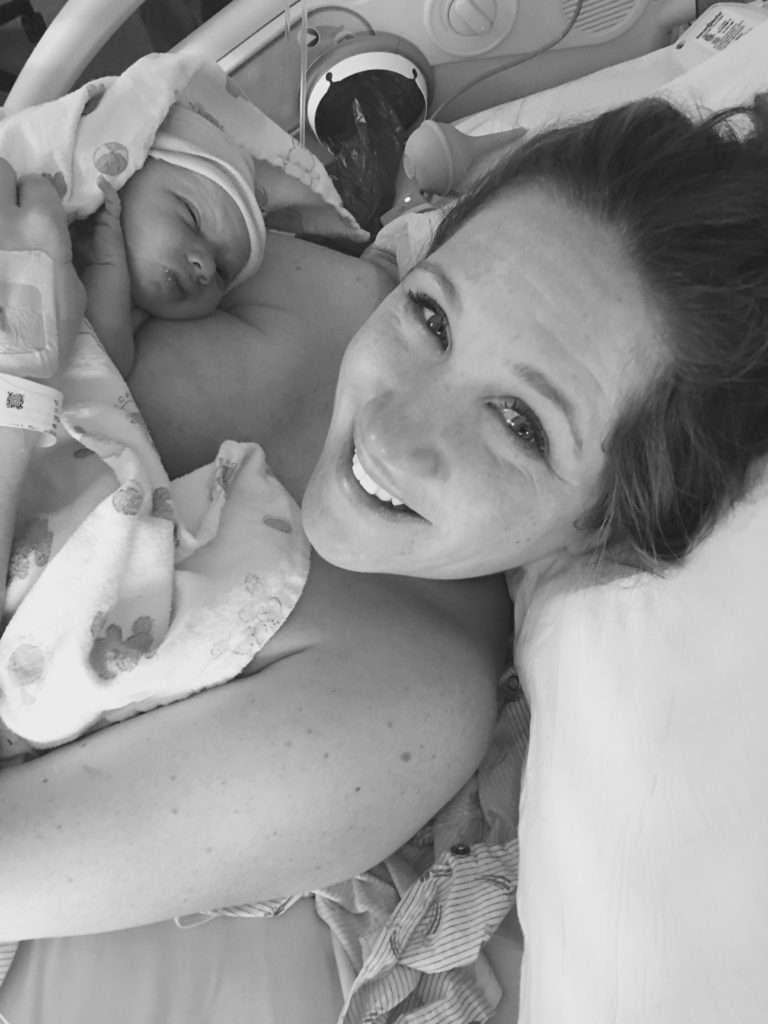 We decided on delayed cord clamping so she sat on my chest for a few minutes before Eric cut her cord. At the same time, the nurses cleaned her off, put a hat on her, and rubbed her body to warm her up as she lay on my chest. Concurrently, I pushed out the placenta but it barely registered because I was so preoccupied with my brand new baby laying on my chest! She laid with me skin to skin for about two hours before they even weighed her or did any of the other things that get checked and measured.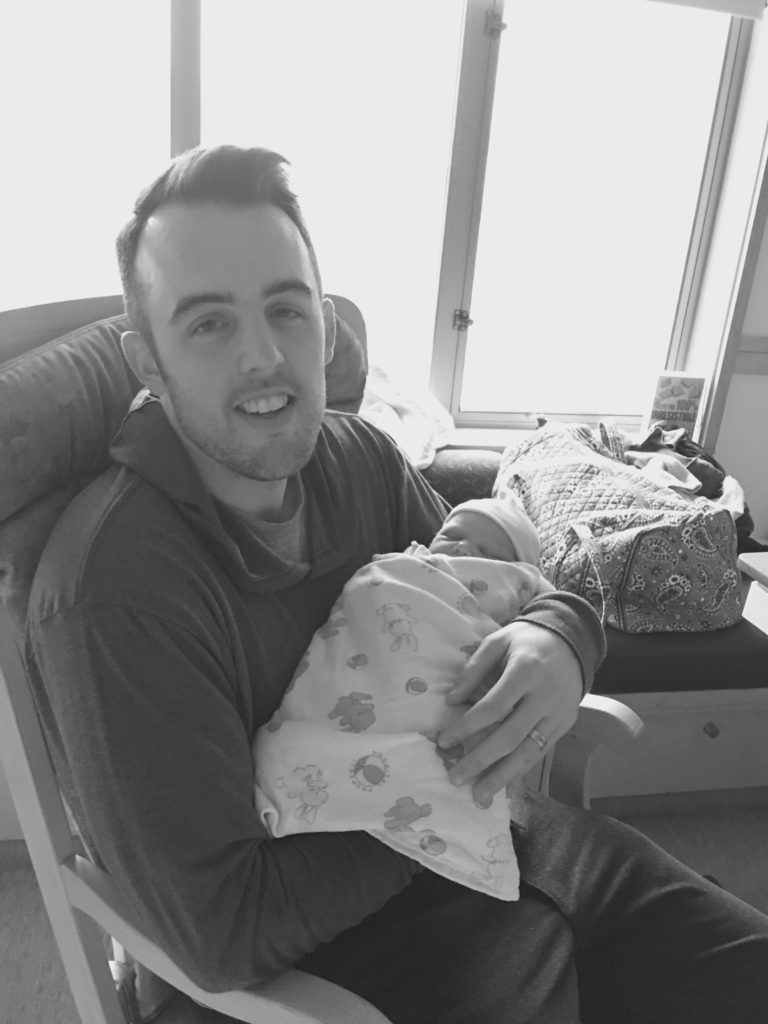 Sweet baby girl, I'll never forget the moment I kissed your head, looked into your eyes for the very first time, and said "Hi Rose, I'm your mama."