Hi friends!
As you may be aware, I've got some big news!! My husband and I are expecting our first child in early February!!!!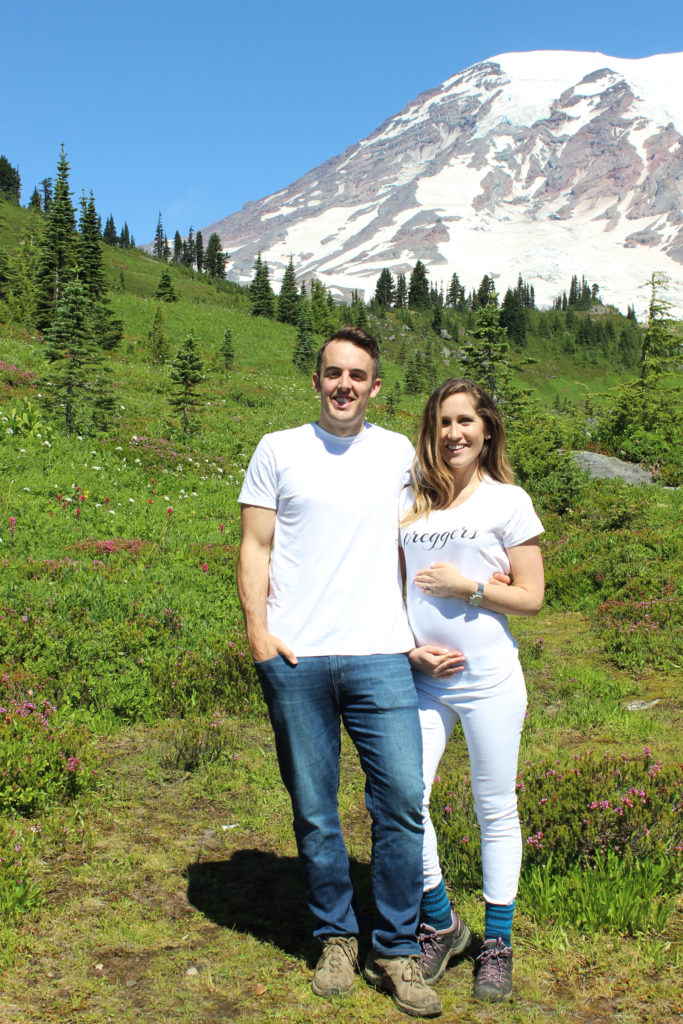 It's the most insane thing to see a pregnancy test turn positive. We've been married for a few years so you can likely imagine how many times we've been asked "when are you gonna have kids??" (answer: too many times to count). We wanted to travel the world, build our careers, and soak up the joy of being a married twosome. We didn't put a timeline on it. Well, we've checked the box on all three plus the added adventure of moving across the country and living somewhere totally new and unexpected!
We can finally answer everyone's "when?!" question with….NOW!
OUR PREGNANCY STORY
I had missed my period once or twice before and those tests were negative so when I missed my period this time around, I wasn't feeling the need to take a test anytime soon. We were busy with work, my girlfriend was visiting from Boston, and I was experiencing all my normal period symptoms. When I told E I was a few weeks late he asked me to wait to take a test until we were both home together. One morning before work we did just that….we flip over the test…and sure enough, positive! Whoa. The emotions flooded immediately – extreme joy, love, shock, love, shock, anxiety, joy, love, shock. Ha! I hadn't even found a doctor out here yet! The next few days I searched for a doctor and made our first appointment. As I hung up the phone with the receptionist, she said "congratulations!" We hadn't yet told a soul we were expecting so it was the first time anyone had ever told me congratulations and as soon as I hung up the phone I started sobbing. It felt so real and I was just overcome with utter shock and wonder of God's faithful blessings.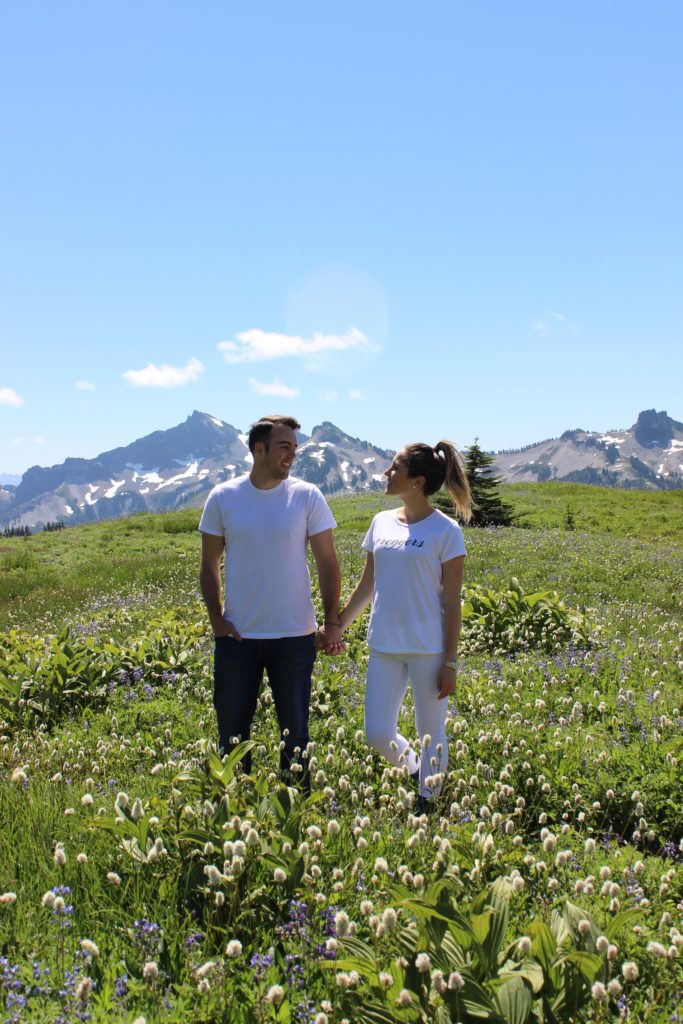 At our first appointment, while the doctor was getting set up for an ultrasound to confirm the pregnancy, she asked how many pregnancy tests I took. I told her one. She was really surprised and told us the average she heard was three of four. Immediately, I was embarrassed and wondered if I was actually pregnant! Could you imagine?! Make all these appointments from just one positive test and it was false?!? Well, a few minutes later she confirmed … "you are definitely pregnant" … and just at that moment we heard the heartbeat! It was overwhelming. (I found out months later from my SIL that you can't have a false positive pregnancy test…just a false negative, in case anyone is wondering!). Our doc printed our first sonogram for us and we immediately hung it up on our fridge. The next day while I was Facetiming my mom on the East Coast, I held it up to the screen and she started crying. It felt real to have another soul know we were expecting a baby! Poor lady had to hold that secret for months!
Pregnancy is an unbelievable process to me. It's hard to grasp that a tiny life is growing inside me. Some days I will be walking down the street and this surge of emotions washes over me and I just start crying. I feel like I already love this baby as fiercely as any mom loves their child….and he/she is not even here yet!
ANNOUNCING BABY
Three weeks ago we had a road trip to Mount Rainier planned and it dawned on us that it would make the perfect backdrop to snap a few 'baby announcement' photos so we did just that. Afterward, we took a beautiful hike along the mountain ridge. The PNW is just stunning!!!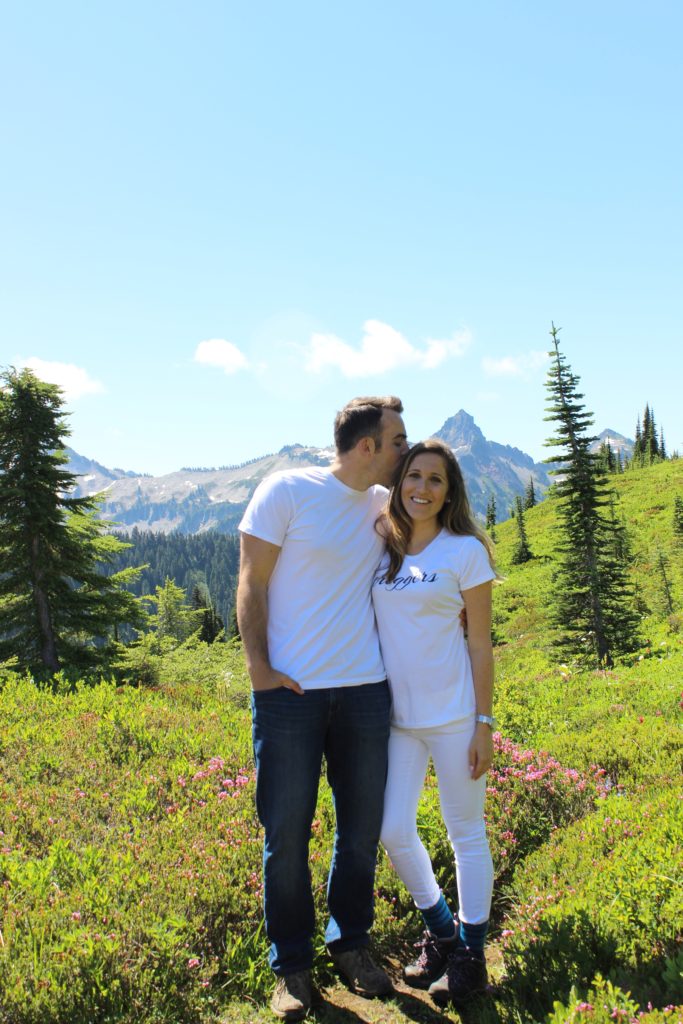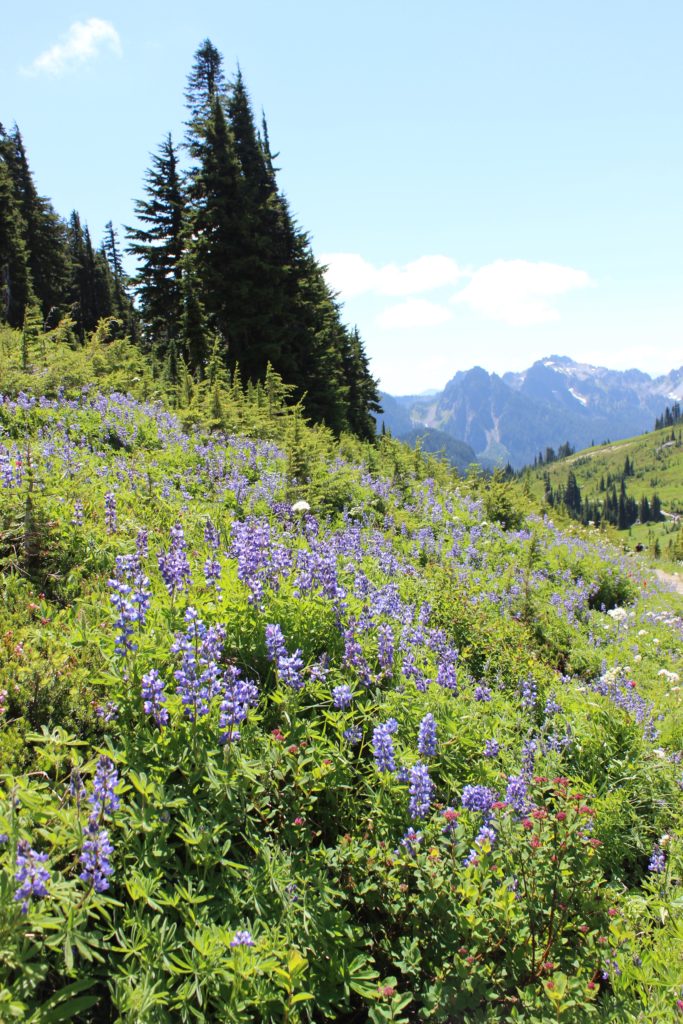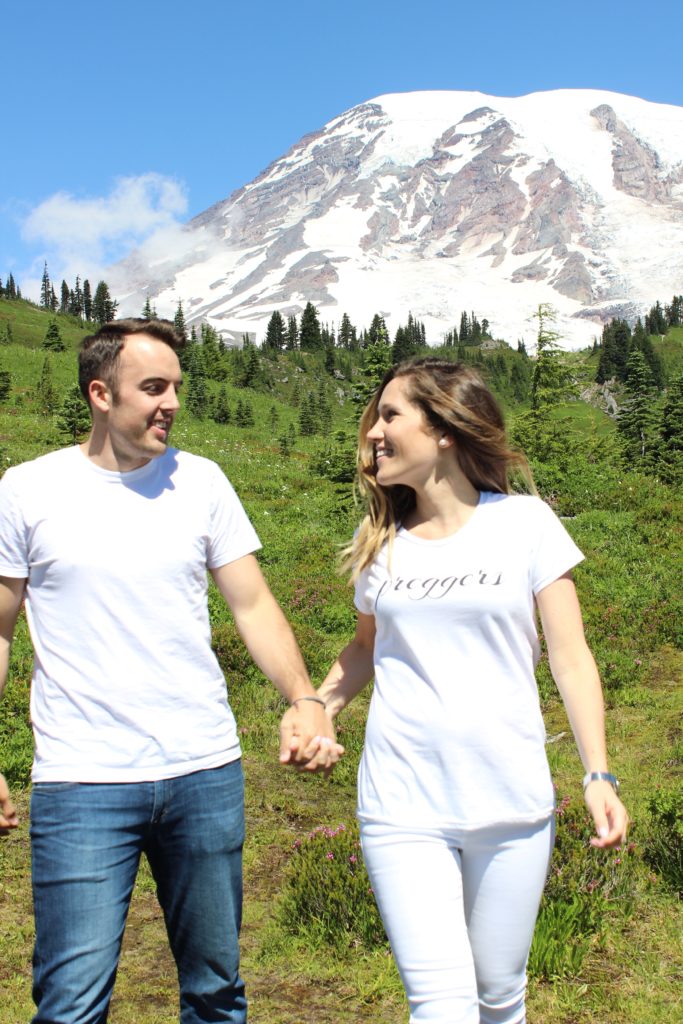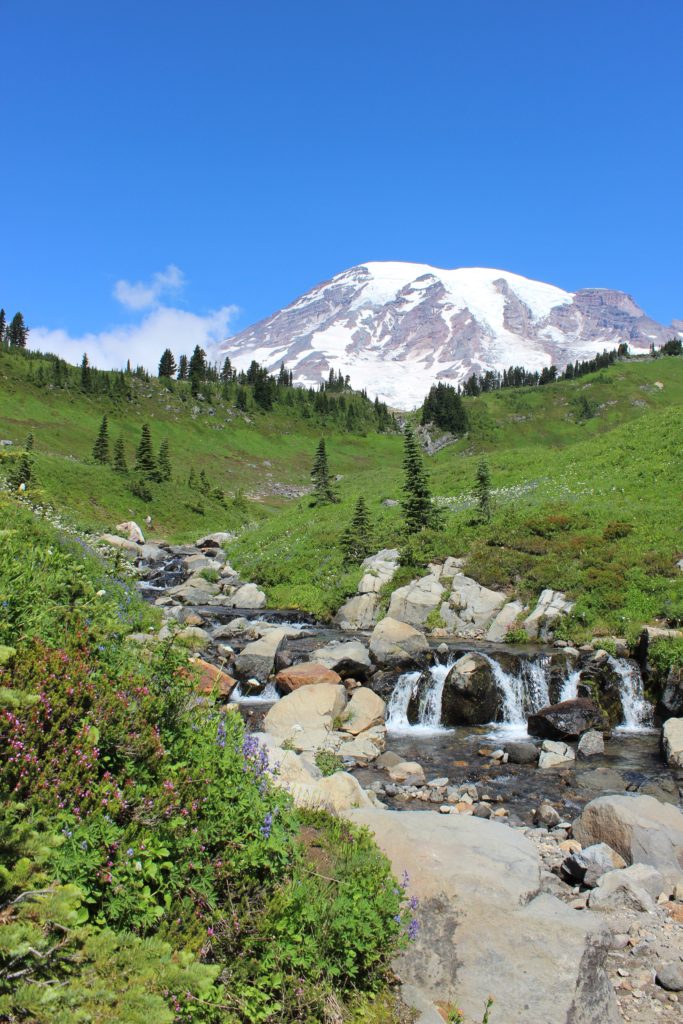 The week after our trip to the mountain we planned to announce our baby to the world, so E took me for a special brunch at the Fairmont downtown to celebrate. (If you live in Seattle, you MUST go! Order the eggs benedict and the lemon ricotta pound cake French toast…omg!). It was so fun to indulge in a nice, leisurely breakfast! Before our food came, E surprised me with a special piece of jewelry that he bought when we found out we were pregnant. It was such a special moment at breakfast. Now I wear it every day and just look at it and smile.
BUMPDATE: FIRST TRIMESTER (and then some)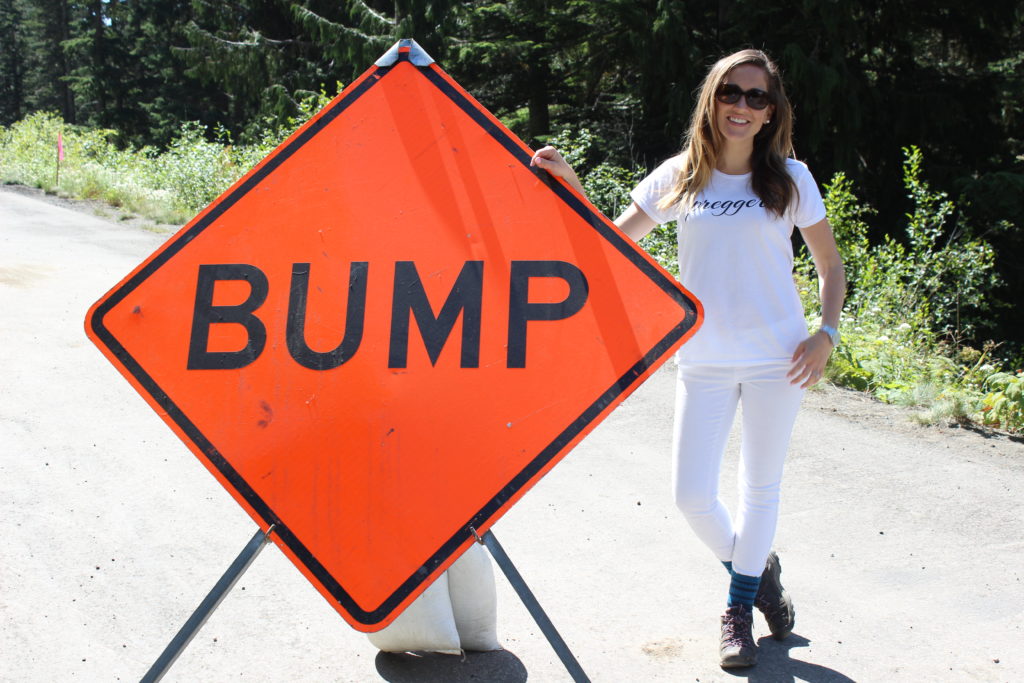 I have more than four months to catch you up on, so here is how it's been going:
When are you due?
I'm due February 4th!
Symptoms?
I escaped the morning sickness/nausea of the first trimester fairly well. If I got nauseous it was pretty much only at night. Eating a piece of toast usually did the trick. Of course ginger ale was also pretty clutch. The strongest symptom I had was exhaustion and being extremely tired. There were a bunch of days where I'd come home from work and go immediately to bed and sleep through the night! Currently, my energy has returned and I feel pretty great!
Worries and Anxieties?
I'm worried and anxious about everything. Right when I think I'm comfortable with how things are going I realize "OMG I never showed my doc the ingredients in my face creams!" or "I just had a strong cramp! Something is wrong!" or "I have 5 cross-country flights….that can't be safe!" Really, you can worry about everrrthing but I'm not oblivious to the fact that women have been having babies since the beginning of time so more often than not, everything is fiiiine. Another major area of concern: Zika – it's frightening! There is zero risk of the bug making its way to where I live, but there is risk of it being on the East Coast which is where I have to travel a few more times this year. We keep watch on the CDC site and if it ever came within a 3 or 4 state radius, we would just cancel our travel plans. But still, scary stuff just in general. Praying about all my fears helps tremendously!
Food Aversions?
I had strong aversions to any type of ethnic food early on. Just walking around the city and smelling the different restaurants was enough to make me run away. Oddly, one of my favorite foods – pizza – has been something I can do without.
Cravings?
I've had distinct cravings for fruit, specifically grapes and apples. In addition to fruit, I had cravings for salty things such as Claussin pickles and Baked Lays (yes those specific brands!). Now it's sweets.
Diet?
For awhile only plain food felt safe – yogurt, toast, chicken, rice, etc. Nowadays I've reintroduced my normal diet back into my life. I pretty much eat exactly the same as I did pre-pregnancy, though my breakfasts tend to be larger and I do allow more carbs than normal. We bought a juicer a few months ago and I've been LOVING making an all-veggie juice in the mornings with my eggs. Things I've given up: sushi, alcohol, regular coffee, froyo, deli meats, hotdogs, soft cheeses.
Exercise?
My doc and the books say that you should get 30 minutes of exercise every day. I typically run a few miles and use free weights at my gym 2-3 times a week, take a Flywheel class once a week, and the other days take a long walk with my husband. Some weekends we will still hike. I don't push myself if I'm not feeling it though.
Body changes?
My skinny jeans are all tight and I've had to buy a new bra! I'm gaining weight and my belly is definitely starting to swell. I honestly love watching my body change – it's so cool what female bodies can do!
Boy or Girl?
We have yet to find out! Our next sonogram will tell us…but we will wait to find out until we are with our families on the East Coast.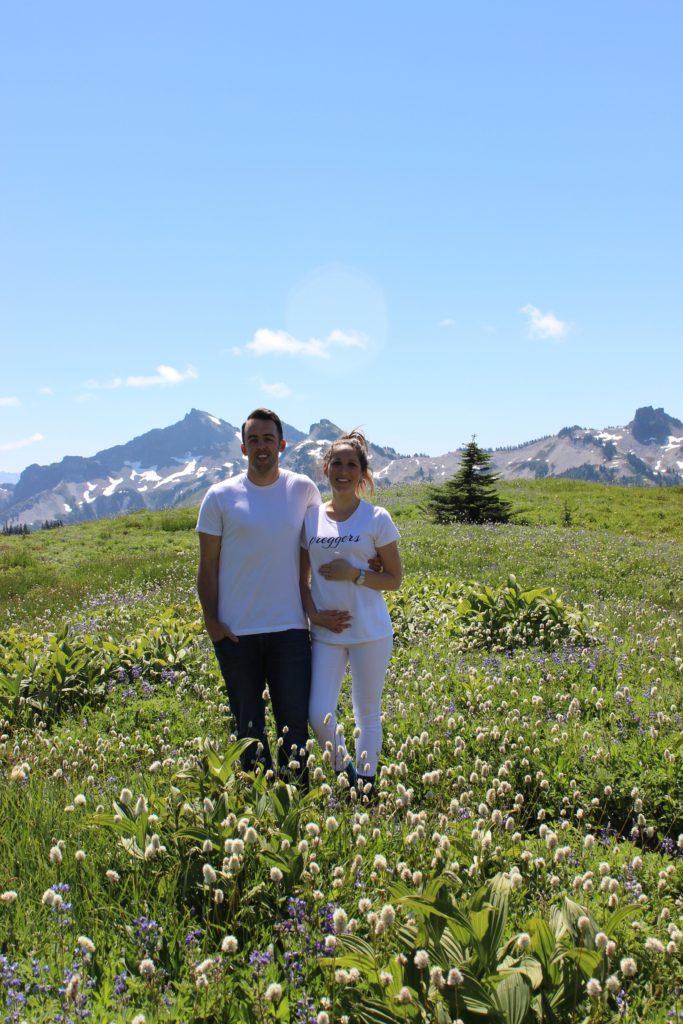 I always knew I wanted to be a mom someday, but now that I'm actually in the process of holding that new title of responsibilities….it's a whole different story! It's just bizarre. I really can't formulate words other than it's surreal.
I'd love to hear how you found out you were pregnant? How did you tell family/friends/the world? Share your pregnancy stories – and any pregnancy tips! – in the comments below!
Thanks for stopping by and following along in this next chapter!
XO BVB