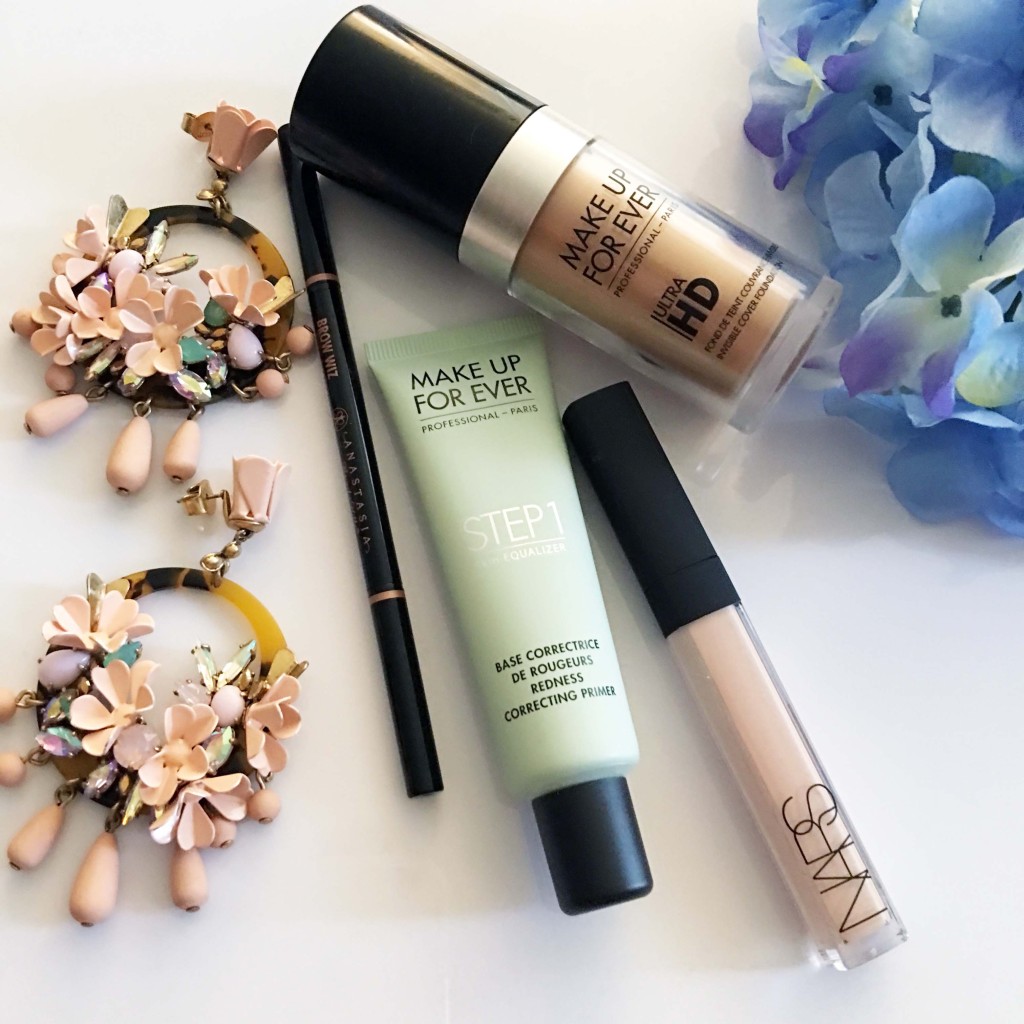 Hi Friends! As I've mentioned before, I was pretty late to the game when it comes to makeup, especially foundation. It wasn't until last year that I started using liquid foundation and I'm still trying to find the right formula that works best for me. I love purchasing from Sephora or Nordstrom because if I buy something and it turns out it doesn't work for my skin or needs, I can easily return it – no questions asked! Plus, both stores are also fantastic at providing you samples of products you'd like to try before purchasing the full-size version.
Before I apply any makeup, I always apply a primer. I feel this helps fill in my pores so the makeup isn't sinking into them. Because I have redness, I like to try to balance that out with product. I've used color correctors before, though I'm especially liking the redness color corrector from Makeup Forever (I tried a sample then purchased the full size). I've had the Makeup Forever HD foundation (purchased 140 Soft Beige) on my wish list for awhile so I went ahead and purchased it (again, after I sampled it first). I like this foundation because it's very light, perfect for work days. For evenings, when I might want a bit more coverage, I purchased this one in 2N1 Desert Beige. Another product I was in need of was concealer – I have been using the same drugstore cover up for, well, probably three years. And I mean the SAME TUBE. Ew. It was time to chuck it and start fresh. I heard lots of great things about the Nars Creamy Concealer (purchased Vanilla) so I added that to my cart as well. Lastly, brows. This was another "upgrade" for me as I was using a drugstore version. Even though the drugstore version was cheaper, I went through the pencil often so I could justify the cost of the Anastasia Brow Wiz that I purchased in "Medium Brown." This was one of my favorite purchases and I highly recommend this brow wiz.
My other must have beauty favorites include this mascara (the best!), this highlighter, this bronzer in "Laguna", this blush in "Orgasm", this lipstick (a splurge but SOO worth it!!), and this eyeliner!
Statement earrings in the photo are J. Crew. I got them in the store on sale! Spring styles are currently 30% off when you use code SHOPNOW.
What are you favorite makeup products? I linked all my staples below! Thanks for stopping by!! xo