Happy Monday! If you haven't noticed based on my Instastories, baby prep has me spending a lot of time in the kitchen. I've felt the need to cook up a whole bunch of dishes that are freezer-friendly to help us out at meal time during those sleep-deprived newborn weeks. In addition to dinners, I have a whole stash of these No Bake Energy Balls sitting in my freezer, too! The instructor at one of our hospital classes recommended making something along these lines to have on hand while I nurse. Apparently I will be really hungry and thirsty while nursing and these energy balls, loaded with fiber, protein, and healthy fat will be a no-fuss, healthy snack to have on hand during those long nursing sessions. Here is the recipe I put together: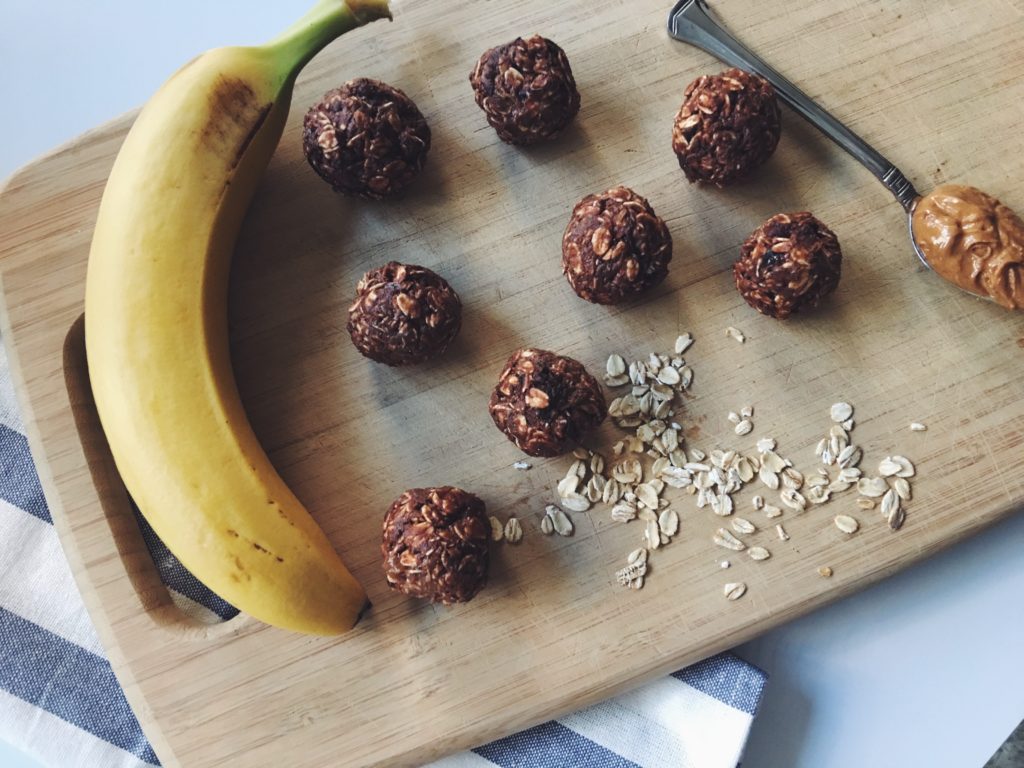 INGREDIENTS
– 1 banana
– 2 tbs cocoa powder
– 4 tbs natural peanut butter
– 2 tbs ground up flax seed
– 2 tbs chia seeds
– 1 1/2 cups old fashioned steel oats
DIRECTIONS
1. In a medium bowl, mash up banana and then add the cocoa powder, peanut butter, flax, and chia seeds. Mash/mix until all ingredients are combined.
2. Stir in oats gradually.
3. Using a melon scooper, form into 20 balls and place on a platter lined with wax paper. (Mine were really sticky so do the best you can. You can reshape them later.)
4. Refrigerate for 45 minutes. Remove and reshape into balls.
5. Store in freezer-safe container/bag.
When you are ready to eat them, take out what you will consume and let them defrost on a plate for 10 minutes.
Enjoy!!