October brings all the #fallfeels. I don't know if it's just me, but it feels October was catapulted in popularity in the last few years. Works for me! It's been one of my favorite months for decades as it is my birthday month, our dating anniversary month, and I've always loved the weather where it's still sunny out but with a crisp chill. And, I've been into pumpkin flavor since middle school way before the Pumpkin Spice Latte was even created. Fall always reminds me of being a little girl eagerly anticipating the day I would come home from school and my mom would have made her infamous pumpkin bread. Like, I can honestly remember the euphoria I felt walking into the house seeing it there on the counter. (#fatkid).
I was in the mood to make a butternut squash bisque from scratch last weekend. Trader Joe's was completely out of squash so I subbed it for sweet potatoes. Frankly, I didn't know the difference between them until right now when I googled it. I'm pretty sure the flavor consistency is roughly the same, though I'm curious enough to make this again with butternut squash and let you know. E picked up a nice baguette and we had ourselves a little fall feast. The good news is that this recipe has lasted through two dinners and three lunches. It makes a lot!
SWEET POTATO BISQUE
This recipe is adapted from this site and this one.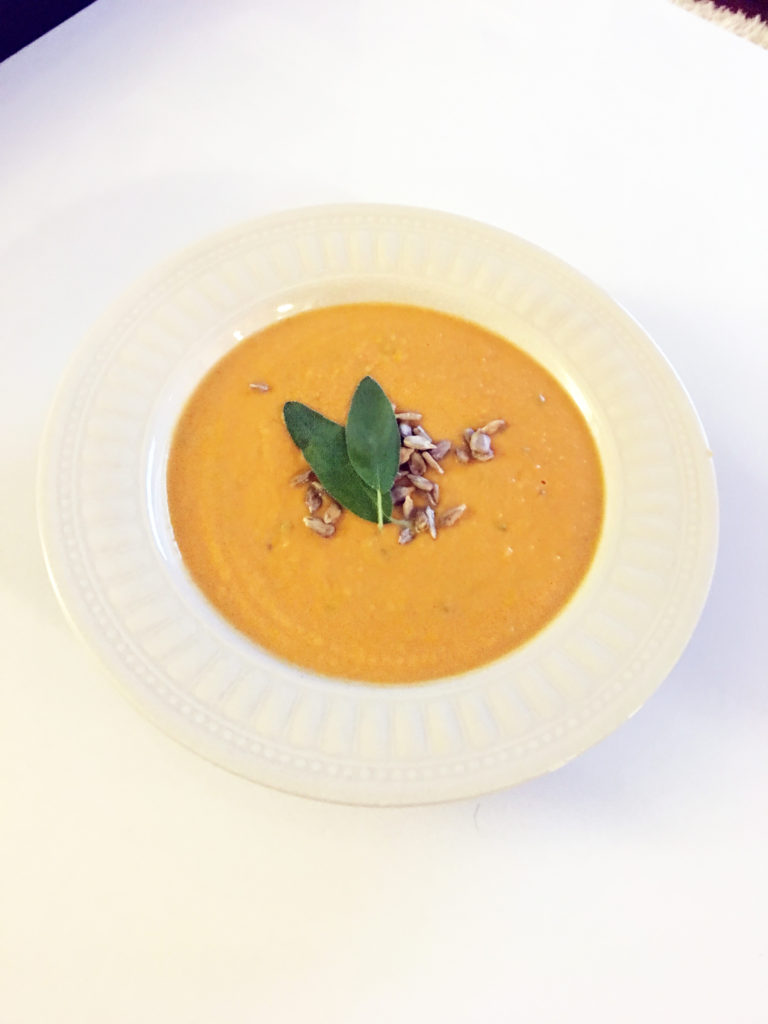 Total Time: 1 hour
Prep: 15 min
Cook: 45 min
INGREDIENTS
-3 large sweet potatoes, cubed (sub butternut squash if desired)
-1 small onion, diced
-16 oz organic veggie broth
-2 tbs unsalted butter
-1/2 cup whole milk
-1/2 cup of half and half
-5-8 sage leavs
-heavy whipping cream, to taste
-1 tbs cinnamon
-1 tbs nutmeg
-Pepper
DIRECTIONS
1. In a medium saucepan, combine the onion, sweet potatoes, and veggie broth. Simmer, uncovered, for 40 minutes.
2. Carefully transfer ingredients into a blender. Add butter, whole milk, half and half, peper. Pulse until creamy. Add sage leaves. Pulse.
3. Add cinnamon and nutmeg and a dash of whipping cream.
4. Ladle into bowls and drizzle with cream. Garnish with pumpkin seeds.
5. Enjoy!