Hey friends! I can't believe I'm even saying this but today I celebrate six years at my company! Seems like a lifetime tenure at a company these days. In celebration, I thought it would be fun to share six career tips I've found valuable the last six years.
ONE: Find A Mentor
I know it can be tricky finding a mentor because it isn't a simple "Hey, will you be my mentor?" Find someone whose career you admire and ask them for coffee. Ask them about their career and how they got to where they are today. Let them know what exactly you admire about them. People love sharing their story. Mentors help you navigate through challenges and provide perspective. Remember it is a two-way relationship so be sure you are investing the same amount of energy they are investing in you.
TWO: Invest Time In People
Any way you slice it, authentic relationship building is the foundation of any successful career. Relationships truly matter in business. Before diving into the agenda on your next conference call or team meeting, build in time to ask how everyone's weekends were. Remember their answers and follow up with them. Make it personal.
THREE: Don't Wait For Feedback – Solicit It
Most companies provide feedback to employees at year end. That's great. But it isn't enough. In order to sense check how you are doing, you need feedback throughout the year. So ask for it. Ask your boss. Ask your teammates. Ask your direct reports. Better yet? Ask the colleague you always thought was working against you. Asking for feedback from a varied group of stakeholders will provide you with a holistic picture of what works best and what areas need improving. I've uncovered and corrected some behaviors that needed improving by getting in-the-moment feedback rather than waiting for it to be funneled through the formal channels during end of year reviews.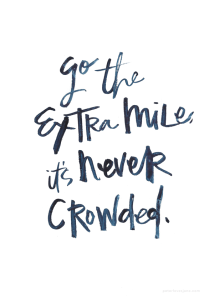 FOUR: Get Uncomfortable
This headline reminds me of the popular saying "If you're the smartest person in the room, you're in the wrong room." If you can do your job with your eyes closed, you aren't being challenged. If you aren't being challenged, you aren't growing. And growth is where the magic happens. A promotion isn't in the cards but you still want more? Ask for it! Having the opportunity to build new capabilities while in your current role is the next best thing.
FIVE: Give Credit
I read an article on leadership not too long ago and one of the traits of a "great leader" was someone who gave credit. Everyone wants to do well and be recognized for their efforts though they seldom are. Why is that? Early in my career I was afraid to give too much credit to others who had helped in my achievements for fear of the perception that I didn't do "all of the work." I realize now, how naive that was. No one makes big accomplishments on their own.
SIX: Fight For Yourself
It's rare that your boss or others will approach you about a new opportunity or promotion. It's even more unusual for a boss to just hand over a raise. If you've put in the work and have the results to prove it, ask for what you want! Whether it is more money, a title change, a stretch opportunity, or a promotion. You'll never have what you never asked for.
What has worked for you in building your career? What would be your six career tips?